Chestnut Products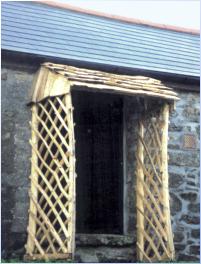 The wood used is taken from trees felled in a sustainable managed woodland. The wood is riven into quarters or smaller sections, and then a jointed frame is made. Lathe sections nailed onto the frame using galvanized nails. Most of the sapwood will be eliminated in the splitting process. Where necessary for either practical or aesthetic reasons the wood will be shaved or axed.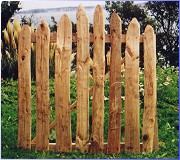 Each piece hand worked will be different from any other; this ensures an aesthetic integrity that cannot be duplicated by modern manufacturing processes. In using this price guide please refer to other pages in the Greenwood section. To order or request further information, please contact us.
Chestnut wood in Architecture
| | |
| --- | --- |
| Beams | Made from Chestnut, Oak or Douglas Fir. Beams are squared by axe and adze, then finished by planing and sanding. Prices depending on finish. Dimensions: 300mm², tapering over length. |
| Lintels | Perfect for traditional stone buildings over windows and doors. Visible sides finished by planing and sanding. |
| Hand rails | Beautifully finished chestnut rails. Straight, but following the tree growth to look and feel exquisite. |
| Posts and supports | Newel post and support posts ideal for traditional building. |
Agricultural chestnut fencing and gates
| | |
| --- | --- |
| Post and rail fencing | Riven post and rails. |
| Gates | Gates are crafted using riven rails which follow the tree's growth. All are quite rustic, but strong and very attractive. |
| Gate posts | Sturdy and long-lasting closing and hanging gate posts. Squared or in the round. Heights: 2.4m (hanging) and 2.1m (closing). |
| Stiles | To go over post and rail fences. |
Chestnut in landscaping & garden
| | |
| --- | --- |
| Picket fences | Picket fences on the post and rail system with hand split picket posts. Individually draw-knifed finished. Dimensions: 2m sections; heights from 0.6m to 1.5m. |
| Picket gates | Prices width dependent. 1m high, 1m wide with gate furniture. |
| Pergolas | Using timber in the round these are a distinctive statement that will give climbing plants a very long-lasting framework. |
| Trellis | Very strong, hand riven fencing or climbing frame which can be purposely made for their position. Gates can be made to match. Really good wind attenuation. |
| Climbing frames | Bespoke garden folly. |
| Summer houses | Each building design using stone and wood to complement their position. All wood work built on Japanese principles using timber frame and exteriors clad. Roofs made with chestnut shakes (shingles). |
| Treehouses | As above. |
| Foot Bridges | Made from a selected bent tree to form the span. |
| Benches | Individually made using selected interesting shaped timber. All are comfortable. |
View chestnutfencing.com for our full catalogue of chestnut products and prices.